Social Emotional Learning (SEL)
We foster healthy, well-rounded, and successful global citizens by developing students' habits of success and learner agency.

Teachers and staff utilize a comprehensive Distinctive Schools Social-Emotional Learning Framework to guide classroom practices and strategies to support student development and learning, and proactively use classroom management strategies and effective practices to support students' self regulation and problem solving.

Decisions are made through the lens of restorative justice. A strong sense of belonging is developed and nurtured through meaningful community time and authentic relationships. Students utilize a variety of tools and strategies to problem-solve and persevere through challenges. Students are empowered to self-advocate and respectfully convey their unique perspectives and beliefs.

The CREATIVE framework integrates Social Emotional Learning competencies into the Art In Motion culture in order to support broad growth and development. Our core values are CREATIVE: Community, Resilience, Excellence, Accountability, Tenacity, Identity, Voice, Empathy. We utilize these core values in all facets of the school day –in classrooms, the hallways, the cafeteria – to encourage and celebrate positive behaviors.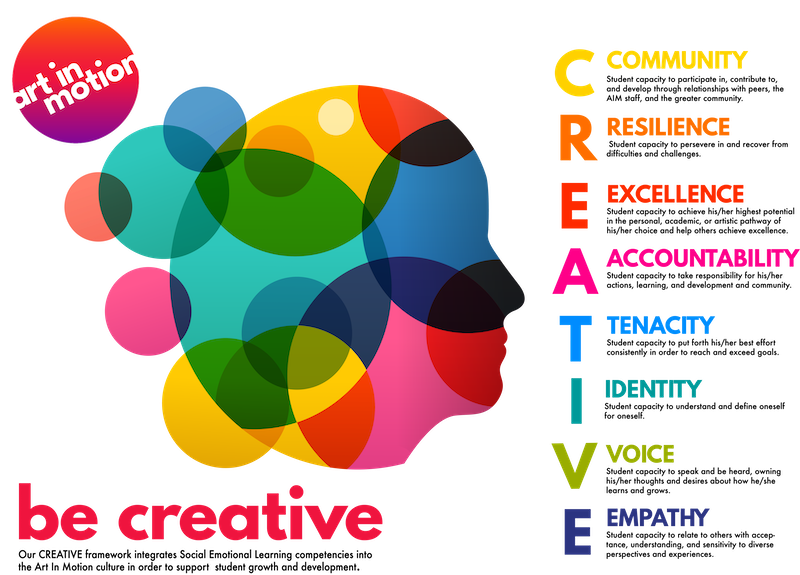 Social Emotional Learning Resources
Move This World - Move this World (MTW) is our direct instruction, Social Emotional Learning (SEL) curriculum that teaches emotional regulation and relaxation strategies.

SELweb - SELweb is our research based, Social Emotional Learning survey that is administered twice a year to assess student SEL needs, advise on interventions, then measure growth.

The Juvenile Protection Association - we partner with The Juvenile Protection Association (JPA) for SEL coaching for AIM teachers and therapeutic services for AIM students.

Social Work and Counseling - our social worker tends to the social and emotional needs of the student through crisis intervention, individual/group brief counseling, classroom interventions, collaboration and/or consultations.

Mentoring Groups - In addition to 1:1 mentoring, Deans of Student Support conduct small group mentoring sessions for students on emotional regulation, conflict resolution, and positive peer interactions.

Restorative Justice - Restorative Justice is AIM's approach to behavioral intervention. Students who have disrupted the learning environment will face a logical consequence, a skill building activity, and a restorative action. This allows students to learn from their mistakes and repair any relationships hurt by their actions.

Peace Room - Guided by staff, our Peace Room is frequently used when students need to regulate their emotions, resolve conflicts, and/or build/repair relationships.